(Inspired by a presentation by Arthur and Pauline Frommer)
Part II
by Lisa Plotnick
In February, I had the privilege of attending a presentation by renowned travel writers Arthur and Pauline Frommer titled, "Getting Out of Your Vacation Rut: New Types of Vacations and Destinations to Consider." The first part of the presentation focused on vacation options that allow the traveler to interact with local residents, inspiring last month's NauticalNotebook.com article Off the Beaten Path—Seeing Ports of Call Like a Local. In the second part of the session, Ms. Frommer discussed the idea of opting for a new or unusual destination. She spoke of China (which leads the list and is relatively inexpensive), Cuba (provided one is going with a group representing a religious or cultural organization), Central America, and Spain, among others.
I realized that this also has some applicability to cruises. Like many, our early cruises were to the Bahamas and Caribbean, and our port time was spent mainly at a beach. I recall an early ground rule we set when seeking the next cruise—at least one port will be new to us. Later on, as we had covered most of the Caribbean cruise ports, we began to turn our attention to other destinations. If all else failed, we knew we would immediately enjoy the cruise. And, this turned out to be of no concern, in retrospect.
Although the new destinations we explored by cruise ship were not as exotic, for the most part, as those described by Ms. Frommer, I immediately recalled our own "New Destinations," which I share below.
Bermuda. My favorite aspect of a cruise to Bermuda is that it is essentially two mini-crossings with a long port call in between. Our first cruise to Bermuda was in 1994, a six-nighter from Boston, on the now-defunct Royal Majesty Cruise Line.
Since then, we have returned three more times—1995, 2005, and 2006. Although Bermuda boasts a warm climate and beautiful beaches, there are significant differences from a Caribbean cruise. First, the destination is far less casual. (For example, swimwear must be covered up in public when not on the beach). Second, spending two or three nights in one port is a luxury not typically offered on a mainstream cruise to the Caribbean. Although those of us in the northeast U.S. might experience a Bermuda cruise as a first cruise, given that these cruises generally depart from Boston, New York, or Baltimore, others may be reluctant due to the big-city embarkation port and the need to fly or endure a long drive. (I know of at least one person who has taken more than 50 cruises, yet still has Bermuda on her bucket list.) In short, consider Bermuda—its natural beauty, history, and extremely friendly residents will make any pre- or post-cruise hassles fade instantly.
British Isles. When Holland America Line announced its 2009 Celtic Kingdoms sailing on Prinsendam, we were immediately drawn to this 14-night voyage. The cruise started in London,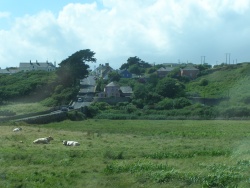 ended in Dover, and circumnavigated the island that is home to England, Scotland, and Wales, with stops across the Irish Sea in Northern Ireland and Ireland. Other than London, this was all new territory for us. It was also very port-intensive (eleven ports of call, not including the separate embarkation and disembarkation points, and only one scheduled sea day). Yet, the variety was astounding. Among the highlights were an impressive natural rock formation outside of Belfast, the seemingly never-ending rolling green hills in Ireland, a visit to an 11th century castle in Wales, and a tour of the city of Edinburgh, Scotland. And, London makes for a wonderful place to spend a few days pre- or post-cruise.
Canada/New England. I hesitated to include Canada/New England in this list as we have been there so many times. Yet, despite these ports being so close to our home, we did not discover
them until our tenth year of cruising. There are a variety of Canada/New England cruises, each with their own flavor. Some are quick getaways from New York to Halifax, Nova Scotia, while others exceed ten to twelve nights and go as far as Montreal, Quebec. In my opinion, the best of the Canada/New England cruises spend time in the provinces of Quebec and Prince Edward Island, in addition to the beautiful maritime city of Halifax. Quebec provides a flavor of France in North America, while Prince Edward Island is the birthplace of the Confederation of Canada. And, don't necessarily limit yourself to an autumn sailing. Peak foliage season is unpredictable, and you'll need to go inland to see the most vibrant colors. Most of our Canada/New England cruises took place in the summer months, and we were welcomed with warm weather, clear skies (usually, but not always), and many outdoor activities. Many ports have lovely boardwalks from which you can enjoy the city and harbor. And, don't forget about the fresh, North Atlantic lobster.
Mediterranean. The Mediterranean is a huge region that offers a lot of choices. Western Mediterranean cruises typically visit the east coast of Spain, south coast of France, Monaco,
and/or the west coast of Italy. Eastern Mediterranean cruises typically call on ports in Greece, Turkey, the east coast of Italy and, occasionally, Egypt and Israel. We took just one cruise here—a 7-night cruise in the Western Mediterranean that visited Barcelona, Monte Carlo, Florence, Rome, Naples, and Palma (Majorca). Cruises to Europe are gaining in popularity, and several mainstream lines have repositioned ships to this part of the world for some or most of the year. Before embarking on a Mediterranean cruise, there are a few things to keep in mind. First, these are very port-intensive cruises with little down time. Shore excursions, whether done through the cruise line or independently, are often lengthy and costly. Airfare is expensive—occasionally, it can come close to the cost of the cruise itself. Finally, summer temperatures in this region can soar, so be prepared. Yet, the upside more than compensates—cruisers are able to see a lot of history in a short time without having to pack and unpack every couple of days.
Norway and Arctic Circle. One of the aspects of cruising I enjoy is to get away from everything for a several days—and this itinerary takes you about as far away as one can get. This cruise was perhaps our most exotic in terms of itinerary, and also became a quick favorite.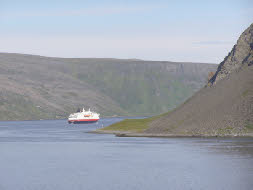 There are a variety of Norwegian Fjord cruises, almost all of which include calls on Honningsvåg (gateway to North Cape), Bergen (population 250,000), and the beautiful fjords of Geiranger (or nearby Ålesund). Our cruise also took us to many locations that I had not heard of previously, including Alta, Tromsø, and Molde. And, there is still so much we haven't seen, even in the ports we visited! The scenery on this cruise was magnificent, and the 20-24 hour days enabled us to enjoy it even longer. Most nights, I even slept with the curtains open so that I wouldn't miss any of the beautiful scenery through the window as I drifted off to sleep. Taking this cruise, however, requires a good deal of research on your ports prior to the cruise to fully appreciate the wondrous sights you'll experience. Even so, some ports are so remote that research will uncover relatively little, adding to the adventure.
Southern Caribbean. For those who love the beaches of the Caribbean yet are looking for something different from the typical Eastern or Western Cruises, consider a cruise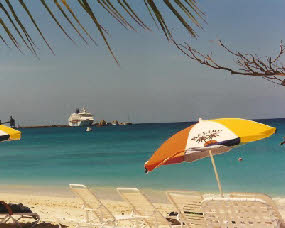 in the Southern Caribbean. Many of these start in San Juan, while some slightly longer cruises will originate in Southern Florida. Given the large number of islands in this region, there are a variety of itineraries from which to choose. We've done three Southern Caribbean cruises and have repeated just two ports out of the 12 on which we called. St. Thomas is a staple (just as on Eastern Caribbean cruises), yet there is a lot to see and do there—including side trips to the beautiful island of St. John—that repeat visits can provide some variation. Other popular islands on these itineraries include Tortola, Virgin Gorda, St. Maarten/Sint Martin, Antigua, St. Lucia, Barbados, and Aruba. One consideration is that airfare to San Juan can be much more costly than to ports on the mainland U.S.—yet this also enables you to enjoy the history and beauty of San Juan for several days, if your schedule permits.
Transatlantic. Admittedly, our selection of a transatlantic crossing was more for the ship at the time, Queen Elizabeth 2, although a transatlantic seemed like the best itinerary given her history and that I wanted to experience a liner functioning as a liner.
Our westbound crossing—Southampton to New York—consisted of six days at sea with no port stops. As QE2 has now been retired, the routes have been picked up by Queen Mary 2. A classic transatlantic crossing is much different from a cruise. As is to be expected, there are many more activities (both in number and variety), several renowned lecturers, and the feeling, and realization, that one is many miles away from civilization. Most, especially on Cunard, also feature a touch of elegance in a nod to the transatlantic route's past. Another option—albeit one we have not yet done, is a repositioning cruise from Europe. These are typically run in the spring (eastbound) and autumn (westbound), and often make port stops in Europe before or after the crossing. One important consideration on these itineraries is airfare, yet competitive rates are generally offered through the cruise lines. We loved our 2003 transatlantic crossing on QE2, and look forward to taking another of Cunard's ships on the same route within the next few years.
Exploring new itineraries was one way we added variety to our cruises. Yet, it's not always necessary to go to this extreme—our most recent cruise was an itinerary we had done several times, yet we made new discoveries onshore, or tried flexible time dining instead of fixed seating. Still, we look forward to new destinations. Our next cruise will take us to the rarely visited Homer and Kodiak Island in Alaska. And there are still itineraries on the to-do list, such as the Baltic, Western Mediterranean, South America, the Panama Canal, Mexico's Sea of Cortez, and Hawai'i. Rotating the familiar with the new is a great way to keep cruising interesting.